Welcome to Freedom Pool Service website!
Our goal is to give each of our clients the most outstanding service possible. We really want you to have the Freedom to ENJOY YOUR POOL!
It's hard to enjoy it when every time you want to jump in or lay in the sun next to it, you look at it and think "I don't want to spend time cleaning it now," but if you let us keep it clean you can really enjoy it when you have the chance.
FREE FROM THE MAINTENANCE; FREE TO ENJOY YOUR POOL
Our Weekly Service includes:
- Test pH, chlorine, total alkalinity levels (and salt if you have a salt pool)
- Add required chemicals to water to maintain proper levels
- (Monthly: test TDS, Calcium hardness, and CYA)
- Clean all skimmer baskets, and pump strainer basket
- Brush pool walls, steps, and spa
- Net debris from pool floor
- Make sure equipment is in good working order
- Backwash sand and D.E. filters as needed (full service only)
- Skim leaves and debris from water surface (full service only)
- Vacuum pool bottom as necessary (full service only)
YOU WILL BE FREE FROM ALL OF THESE THINGS
And enjoying your refreshing sparkling pool!
We will also educate you about various aspects of your pool and equipment that you want to know about, being informed will allow you to make informed decisions. Hopefully, you will find a lot of useful information on our site. We pay great attention to the quality of our products and services. You can find detailed information about our products and services online or contact our service technician with any question.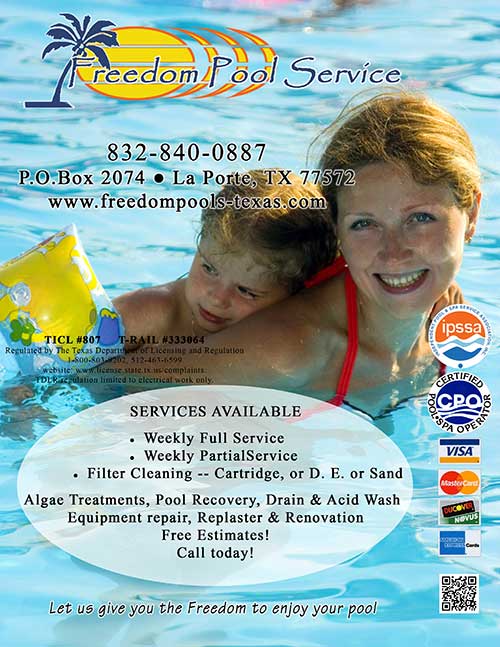 Call or Text 832-840-0887