In order to become a Freedom Pool Service customer, we'll need to schedule an appointment to inspect your pool. We call this an Initial Visit. The purpose of the Initial Visit is to determine that your pool, spa, and equipment are in serviceable condition, and that the water chemistry is within correctable parameters even if it's outside of recommended levels.
On your Initial Visit, we will inspect the pool for algae, (if algae is present we can recommend a safe and effective treatment). There are different types of algae, and you can learn more about them by visiting our Algae Info Page.
We will test your water chemistry. We will check the Chlorine level, the pH, the Total Alkalinity, and Salt ppm if you have a Salt Pool. These are the chemical tests that we will perform weekly to maintain balance.
In addition to those tests, we must check the Calcium Hardness level, the CYA level, and the T.D.S. level. These are test that we perform on a monthly basis, and they serve mainly to allow us to monitor those levels. Once those levels get outside of standard parameters the pool requires draining and refilling. Most of the time a partial drain and refill will reduce the excesses without subjecting your pool to the risks of a complete drain. You can learn more on our TDS, CYA, Ca Info Page.
The Initial Visit also gives us the opportunity to verify the operational condition of your pool equipment; no one can keep your pool clean if the pump or filter are not working properly. If you have problems with your equipment you may already be aware of them and simply need a professional diagnosis and estimate for the repair. Sometimes we catch something early that you hadn't noticed yet because you're not out at your pump doing the Initial Visit Inspection. If we do find a problem, we will tell you about it and offer our recommendation for the correction. Decisions on how to proceed are up to you, and our input is simply help you understand and make an informed choice. If you need your filter cleaned, we'll let you know, and get your approval before beginning the work. However, if you have just purchased your home, we always recommend a filter clean. If repair work of a larger scope is indicated, we will coordinate with you to schedule it and get you into the service plan of your choice as quickly as possible.
If everything has checked out good to this point, the Initial Visit wraps up with cleaning your pool to the service plan level you are contracting for. we clean the pool, add any required Chemicals, and set you on the Approved List for continuing weekly cleaning. It all starts with a phone call or an email.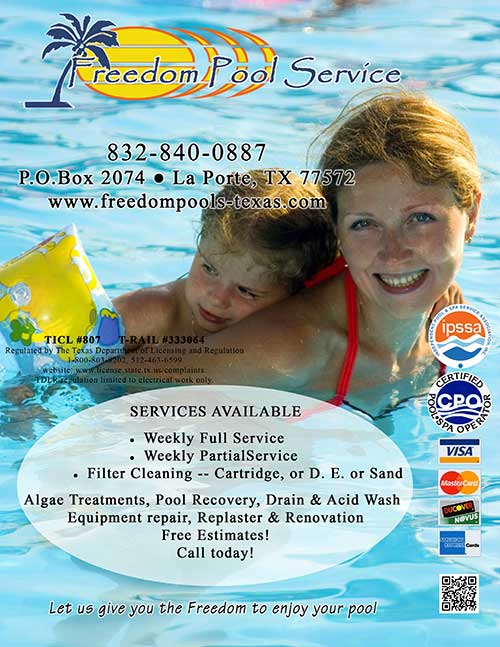 Call or Text 832-840-0887